Why the 2019 Honda CR-V is the perfect SUV for your family
April 30 2019,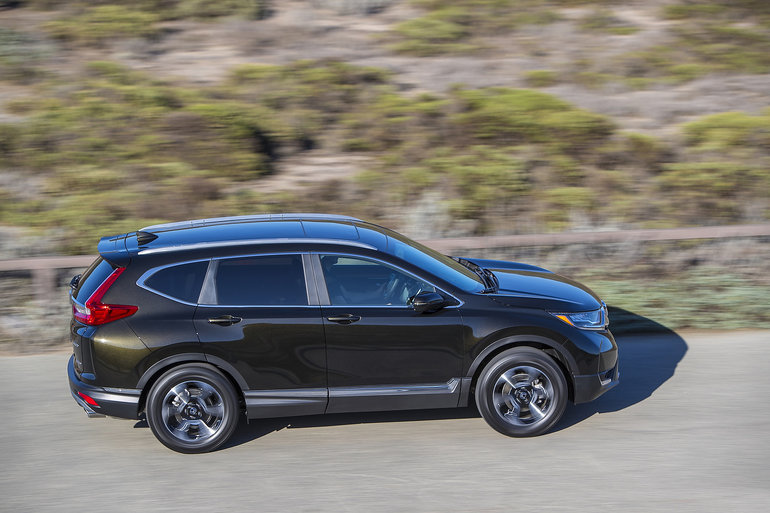 The 2019 Honda CR-V is back this year with minimal changes after a complete redesign back in 2017. The CR-V remains one of the top 10 selling vehicles in Canada and one of the most popular compact sport utility vehicles in its segment, and CR-V owners are usually quick to tell you just how satisfied they are with their Honda SUV.
The CR-V's popularity can be explained by a blend of the features buyers want from a utility vehicle combined with surprising attributes such as low fuel consumption and stable, connected handling that puts the driver at ease immediately. Driving the Honda CR-V is a comforting and stress-free experience, especially knowing just how many safety features surround you and your family. Let's take a closer look.
Active Safety is Standard in the 2019 Honda CR-V
Every single 2019 Honda CR-V equipped with all-wheel drive offers Honda Sensing, a group of driver assistance technologies that are designed to prevent accidents in the event that the driver is unable or distracted. Examples include Honda's Adaptive Cruise Control system with Low-Speed Follow and the Lane Keeping Assist. ACC is designed to keep a safe distance with the vehicle ahead of you on the highway when cruise control is activated. The system can also automatically start and stop with the flow of traffic by scanning what the vehicle ahead is doing. The system makes driving on congested roads a lot easier and enjoyable.
Lane Keeping Assist is designed to prevent lane departures by detecting the lanes on the road and preventing the vehicle from accidently going over them. Other features included in Honda Sensing include Road Departure Mitigation, Collision Mitigation Braking, Lane Departure Warning and Forward Collision Warning. All of these systems combine together to form a protective barrier around you and your family to prevent any possible accident.
The Most Spacious Compact SUV
It's not a secret that as you family grows, so does your need for space. The Honda CR-V offers 1,112 liters of cargo space even when all seats are in place. That's more than any other compact SUV including the Mazda CX-5, Nissan Rogue, Volkswagen Tiguan and Toyota RAV4. There's also plenty of space for both front and rear passengers. The CR-V is the perfect vehicle for a growing family and the need for space that comes with it.
Lastly, the 2019 Honda CR-V features a turbocharged 1.5-liter, turbocharged four-cylinder engine with 190 horsepower and 179 pound-feet of torque. As impressive as the specs of the CR-V's engine are, its fuel economy is even more impressive. Rated at 8.0 liters per 100 kilometers with AWD, the CR-V is the most efficient vehicle in its segment despite having all that power.
Contact us today at Encore Honda to learn more about the Honda CR-V today!